Rick and myself decided to build a shack for portable, emergency or field day excercise,we decided upon a sealed case built by Pelican.
The end result was amazing, It can be powered by electricity or battery power.The case incorporates a Yaesu FT 897 and a switching power supply, battery posts at the rear of the case have been installed for the battery to clip onto a switch inside the case allowing the operator to switch from either power source.

Our first contact with the Porta - A - Shack was with Steve KB0UZR in MN he gave us a 5/7 to 5/9 report,Rick and i were amazed at the report with such a simple installation.
While Rick was talking to Steve I rotated the antenna to see the difference,Steve was very supportive of our tests and we concluded that this simple station was a great success for any ham to incorporate for any application.
Thank's to Steve KB0UZR for his assistance with the reports .
Below the buddipole and Lightning Bolt Quad.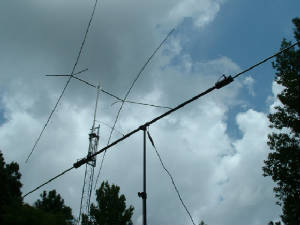 The W3FF BuddiPole click pictur to link to W3FF website.